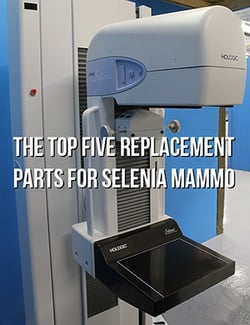 If you've come across this blog, you're probably either a) assessing your parts risk in owning a Hologic Selenia without comprehensive coverage, or b) dealing with a down system and hoping to save cost with used parts from third-party providers. Fortunately, this article is intended to help with both of those scenarios.
Keep reading to find part numbers, current average price ranges, and a handy ordering button for the five most commonly requested replacement parts for the Hologic Selenia digital mammography system.
5 Common Replacement Parts for Hologic Selenia
Don't take this blog the wrong way; the Selenia isn't any more likely to break down or need new parts than other makes or models, but when breakdowns do happen, the following parts are the ones our Parts Team gets the most requests for.
Detector (Array)
This detector, or detector array, is by far the most costly part on a Hologic Selenia. Pricing will be determined by which type of detector you are looking to replace as well as the detector's date of manufacture.
The lifespan of a given detector will vary depending on usage but, anecdotally, we've seen detectors (2010 or later) last between 5-9 years. While there is no perfect correlation, it goes without saying that a newer detector should have a longer "lifespan" as compared to an older detector. If you intend to order one, be sure to check the part number below against the part number of your existing detector. There are two types of detectors for Selenia systems:
Type of Detector
Standard-Cycle
Fast-Cycle
Price Range
$30,000 - $45,000
$45,000 - $60,000
X-Ray Tube
Selenias can be outfitted with one of two different types of X-ray tube. Take a look at our Selenia tube blog to determine which tube you need.
Type Tube
Rhodium Tube (Rh)
Tungsten Tube (W)
Price Range
$5,000 - $10,000
$5,000 - $10,0000
Collimator Assembly
If your collimator leaves are getting sluggish or showing up at the edges of your image, it's probably time to replace your collimator assembly. The good news is that this is not a particularly expensive part compared to some of the other components in your Selenia.
Part Number: 4-000-0040
Price Range: $3,200 - $4,000
Computer
For Selenias in service today, there are typically two types of acquisition computers. Once again, please check the number on your existing computer before ordering one of the following:
Type of Computer
Sun Microsystems Sun Blade 1500
Sun Microsystems Ultra 45
Price Range
$3,000 - $6,000
$3,000 - $6,000
"Red Brick"
The "red brick" is a crucial component of your Selenia's imaging change; the communication hub between your detector and your viewing workstation.
Part Number: MEL-00596
Price Range: $2,500 - $3,500
The Takeaway
At the end of the day, no one hopes to be spending a portion of their operating budget on replacement parts, but the need will arise sooner or later. Fortunately, when it does, independent parts suppliers like Block Imaging are ready to get your Selenia up and running again for less.
If you're looking for these or other Selenia parts right now, use the button below to tell us what you need!