If your facility is billing with CPT codes for fluoroscopy-guided procedures, you have to be able to prove that each one was performed under fluoroscopy. This proof, taken from stored copies of each image, comes under review in the case of a billing audit. In a hospital setting, this isn't a concern, since physicians and rad techs can push those images onto a PACS system for storage and reference. But what if you're using a C-arm at a smaller practice, like a pain management center?
For many standalone pain centers, a full PACS system can be cost-prohibitive. A long-term storage solution is a must, however. The response to this has been to print images and file hard copies of them (space-consuming) or to scan the hard copies into their electronic medical records (EMR) system (time-consuming and wasteful). Below, we're going to discuss two alternatives to PACS or hard copy C-arm image storage that can save space, time, and money.
MediCapture Device
Most modern c-arms feature onboard DICOM, which makes sending images to PACS quick and simple. Unfortunately, images in the DICOM format are very large files and, for a facility that doesn't have PACS, too much for an EMR system to handle.
EMR systems can, however, handle smaller formats like .jpg or .tiff. A MediCapture device allows a C-arm user to save C-arm images in these formats onto a flash drive and transfer them to EMR through a USB port. This eliminates the need for buying print media, storing file cabinets full of images, and scanning as well as taking on the costs associated with maintaining a full PACS system.
The MediCapture product line includes three models. Prices vary depending on which model you're interested in. You can learn which one might be best for you as well as more specific pricing for each from our previous article: MediCapture Comparison: USB170 vs. USB200, USB300, and MVR Series
Upgrades for OEC 9800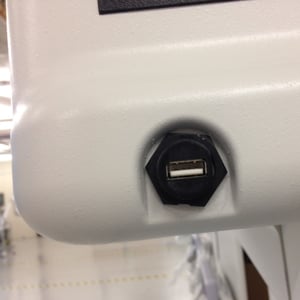 If you happen to be one of the thousands of facilities that use an OEC 9800, we can also solve your reference image storage issue with a USB upgrade.This upgrade is hard-wired into your system and, essentially, performs the same function as a MediCapture device, saving DICOM images in .jpg and .tiff formats. These upgrades will also save in the additional .bmp file format.
The USB upgrade is part of a larger package that improves the OEC 9800 in several other ways. Your 9800's onboard storage capacity is increased to 10,000 images (from 400), wireless DICOM connectivity is enabled, and your CRT monitors are replaced with larger, higher-resolution LED monitors. The average cost for this upgrade package is between $15,000 and $17,000.
You can get more details on the upgrades and see video of some of them here: OEC C-Arm Flat Screen Monitor Upgrades: Bridging the 9800/9900 Gap
The Takeaway
In high-volume facilities using multiple modalities, a PACS network is a must. For smaller facilities using their image records primarily for audit purposes, PACS may be unnecessary and a serious strain on the bottom line. The MediCapture product line offers an affordable solution for any C-arm, while OEC 9800 users can enjoy even more benefits by choosing an upgrade package with USB transfer capability.
Whichever C-arm model you use, if you decide a PACS system isn't right for you, we can help you find the best image storage fit for your facility. You can use the button below to tell us about your project and start the conversation, or contact us here.