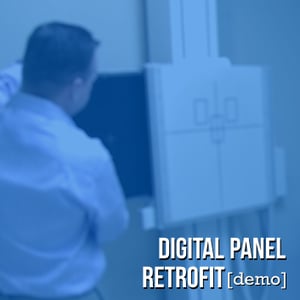 If you've been thinking about re-investing in your X-ray equipment, you may have already read about the ways upgrading with a DR panel can extend the life of your existing system and improve your efficiency. Both of these assertions are very true- we've written about both of them in earlier blog posts- but, to bring the message about DR panel upgrades full-circle, we took our camera to a customer's family practice facility to show you the ease and versatility in the field.
Watch the video below to see:
Out-of-the-box readiness

Wireless connectivity

Post-processing options

Versatility across applications
Different Needs?
For the facility in the video, a single, wireless DR panel was sufficient to bring them the improvements they'd been looking for. However, if the needs at your site are a little different, don't worry- there are a number of DR panel configurations intended to meet whatever individual needs your facility might have. Click here to see a blog with a list of options.
Other Questions?
Just in case you haven't been able to dig too deeply in your exploration of DR panels, we have a few other places you can go for more information. Check out any of these free resources:
Replace Your CR? Or Upgrade to Digital X-Ray?
Analog to Digital X-Ray: Easy Upgrade Demo [video]
CMS Update: Transitioning from Analog X-Ray to Digital X-Ray
GE Definium 8000 vs. Proteus w/Digital Detector: The Cost of Ownership