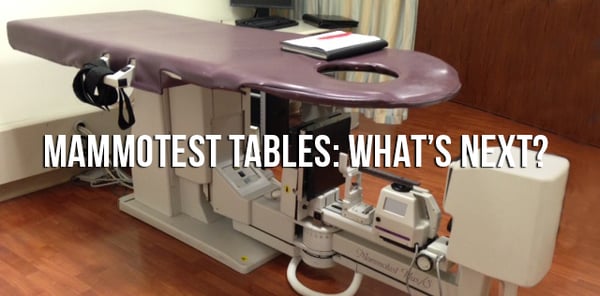 Due to an announcement from Carestream in late 2018 of their discontinuance of service for the Fischer/Siemens MammoTest stereotactic table, we've been fielding requests from an increasing amount of Mammotest users and renters concerned about ongoing service and support. If your facility is among those likely to be affected, there are several thoughts that may be going through your head: "Can we find another service provider? Do we need to consider another used/refurbished table option (i.e. Hologic Multicare)? Can we justify the purchase of a new Hologic Affirm 3D Prone Biopsy Table for 300k+?"
We want to let you know that there are several ways Block Imaging can help alleviate the issue. Keep reading to see several capabilities you can take advantage of to continue offering breast biopsy procedures in your area.
Biopsy Table Service/Preventive Maintenance
If you own a MammoTest table and your service is about to disappear, we can help. Our service team offers time and materials repair calls, regular preventive maintenance (PM) visits, or full coverage plans with parts and PMs built in to keep your table up and running.
Biopsy Table Sales
If your rental source will soon be cut off, Block Imaging can work with you to rent or purchase a used or refurbished MammoTest or Hologic Multicare table. Refurbished tables can be sold with warranty coverage that includes service and parts.
Biopsy Table Financing and Rental
If your budget for biopsy equipment is tight, we can work with you on financing options to lease a MammoTest or a Multicare. We can also provide your facility with a biopsy table on a rental basis.
Engineering and Project Management
If you opt to purchase a table (even if you don't purchase it from us), Block Imaging also provides full engineering and project management services for site planning, transport, delivery, and installation of stereotactic biopsy tables as well as applications training for techs.
The Takeaway
While the recent withdrawal of Carestream and other providers from the MammoTest space has certainly thrown a wrench in the works, there are still options that don't require facilities to abandon their systems or refer biopsy procedures elsewhere. Our team is ready to help you find the best alternative. Use the button below to let us know what your needs are.