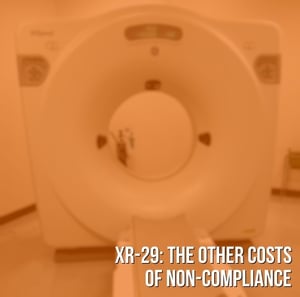 A lot of people have spoken with us about NEMA XR-29 and most of them have, understandably, been focused on the financial impact of taking cuts versus spending the money to become compliant via upgrading or replacing their current CT equipment. While we can't disagree that those are very important considerations, we can point out that they are not the only considerations.
The following are a few points to walk you through the TRUE costs of not being NEMA XR-29 compliant: reimbursements, patient service, and opportunity.
Reimbursements
Determining the impact on your bottom line is a relatively simple matter of looking at your procedure numbers and knowing how to parse that data. The reimbursement cuts that will be levied by CMS will only apply to outpatient CT procedures. A common misconception is that an outpatient study is determined by where it was physically performed. The truth is, whether the CT study is done in an outpatient imaging center or in the hospital radiology department it is most likely considered an outpatient procedure by CMS. If the procedure is performed on a patient that HAS NOT been admitted to the hospital then it will be reimbursed as an outpatient procedure. Nationwide, this represents 70% of all CT procedures performed in the hospital radiology department.
To really determine the financial impact on your facility, you need to know how much you were reimbursed last year for procedures that were both outpatient and reimbursed by CMS. By taking this number and multiplying it by .95, you can begin building a baseline expectation for what the impact will be, assuming your patient volumes stay the same and CMS continues to reimburse at the same rate in 2016 (when cuts under XR-29 are scheduled to go into effect) as they have in prior years.
You may find that the number of outpatient and CMS reimbursed procedures that you perform do not represent a significant portion of your revenue. You may find that, from a strictly financial standpoint, it makes the most sense to stick with the equipment you have. You may also find out that your payer mix is such that a 5% reduction in reimbursement is significant enough to warrant the expense of an equipment upgrade. In either case, a look back at your numbers and a quick calculation will give you a starting point for the financial side of your decision making.
Patient Service
Another part of determining the cost of non-compliance is to consider the advantages to patient service that may be missed when a scanner doesn't feature the four requirements of XR-29.
Patients are increasingly aware of radiation dose and older systems simply don't do as good of a job keeping dose at a minimum. This is an ethical consideration but also a market driver in many areas. Remember, your older single, dual, or quad-slice scanners probably don't have automatic exposure control (AEC). Your older six and eight-slice scanners probably only have a non-rotational AEC strategy that does not provide as much dose reduction as modern 3D and 4D AEC systems do. Older, non-AEC system dose levels can be as much as 24% to 30% higher than newer systems with AEC. These are not things that can be retrofitted in the field.
There are also many procedures that can't be performed on older CT systems due to the system architecture. For example, quality CTA cannot be performed on older CT systems because of the lack of an isotropic voxel- essentially, the image quality is not considered consistently diagnostic in many clinical situations. Functionality like Metal Artifact Reduction (MAR) and bone removal increase the diagnostic range of a CT system. These features are not available on older CT systems. Low-dose lung screening that meets ACR dose guidelines is often not possible on older systems as well.
While none of these examples are implicitly tied to NEMA XR-29, some of the cost of upgrading a CT system to meet NEMA XR-29 requirements can be offset by the ability to offer more procedures to referring physicians. The lack of clinical capabilities that are now considered the standard of care, coupled with reimbursement offsets, may be a good reason to consider a system upgrade.
Opportunity
The final consideration we'll posit is the opportunity cost relative to the value of your trade-in. As of July 2013 there were more than 5,000 CT systems reported to the congressional budget office as being unable to be upgraded to NEMA XR-29 by all manufactures. While this number is smaller now, based on system replacements that have occurred since then, there are still thousands of CT systems in the US that cannot be made NEMA XR-29 compliant. As the international secondary market absorbs these systems and meets its own demand, the value of a trade-in will continue to fall as we approach January 2016.
The Takeaway
Depending on your facility's individual circumstances, you may have compelling reasons for pursuing any number of courses pertaining to NEMA XR-29. However, before you begin any pursuit, we encourage you to look beyond the reimbursement implications and consider other stakes that may be at play. Whether you're ready for XR-29 right now or think you may need another year or two, the need for compliance is likely to become less of a choice and more of an eventuality.
For more information on XR-29:
To Estimate Reimbursement Revenue:
.........................
Courtesy of guest contributor: Keith Mildenberger

Keith has been in the diagnostic imaging business since 1983. Having held service, management, marketing, and sales positions, he has developed a broad base of experience in areas impacting the diagnostic imaging community and the patients it serves. He has been part of MITA since 2011 and involved with all aspects of NEMA XR-29, including its authorship. He is currently the CT Product Manager for Neusoft Medical Systems USA, Inc.