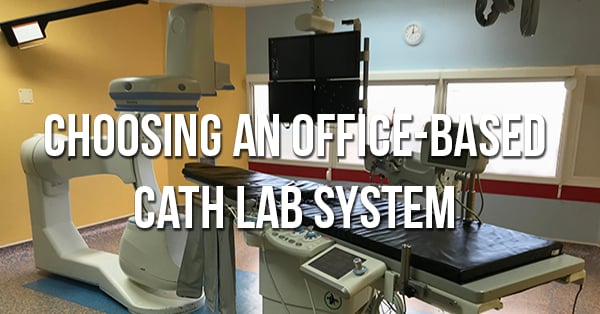 When looking to purchase a cath lab for your office-based lab (OBL) facility there are a lot of considerations that come into play, but, first and foremost, is the system you choose to install. This can be one of the largest capital purchases for the facility, so it's important to choose a system that will not only perform the needed studies, but also fit into your budgetary "sweet spot" to provide the best return on investment possible. With that in mind, how do we determine the best cath lab for your OBL?
Studies Performed
Let's start with the procedures you intend to perform. If you're looking to perform cardiac studies, a small detector unit such as the GE Innova 2100 IQ or the Philips Allura XPER FD10 would be a great fit. On the other hand, if vascular work is more your cup of tea, a GE Innova 4100 IQ or Philips Allura XPER FD 0 would be the way to go.
Now, if you have physicians for both specialties and intend to have them share a lab, then a GE Innova 3100 IQ or a Philips Allura XPER FD 20 would be the best choice. These units are commonly referred to as "swing labs" as they can handle both cardiac and vascular procedures when equipped with the proper options.
Site Planning
A frequently overlooked aspect of cath lab projects is the cost associated with preparing the site to receive the system. The GE Innova series reduces this cost because they are all floor-mounted systems, with patient table and gantry bolted into the floor. A ceiling mount is still required for the overhead monitor suspension, but this is a relatively minor consideration in the overall scope of planning. Another benefit of a floor-mounted system is flexibility in ceiling height. GE systems can be installed in rooms with ceiling heights between 9' and 10', as only the monitor suspension is affected.
On the flip side, a ceiling-mounted system, like a Philips Allura XPER FD10 or FD20, requires far more structural support and installs within more precise tolerances. Having the floor and ceiling supports parallel and an exact measurement between the finished floor and finished ceiling are key to a successful ceiling-mounted installation. These requirements add additional expenses to properly prepare your site to accept the system.
Cost of System
As we mentioned, this is likely the largest capital equipment purchase for your OBL and there can be a wide spread in pricing. In general, the cost of a GE Innova system is going to be less than a Philips Allura XPER system. Depending on the specifics, the difference could be $100,000 or more!
The Takeaway
So, what is the best cath lab for your OBL? In our opinion, if you're looking for the most cost-effective solution, the GE Innova series will provide the needed clinical functionality at the most reasonable overall cost. That said, if you're looking to build a high-end, office-based lab and can support the expense of a ceiling-mounted system, the Philips cath lab line is the most popular in the world and provides plenty of "bells and whistles" that, while not clinically essential, may improve workflow and user experience.
No matter which way you're leaning, it pays to remember that reimbursements are the same no matter which model of cath lab you choose.
As always, we're here to help in your decision-making process. Don't hesitate to call or email should you have questions.