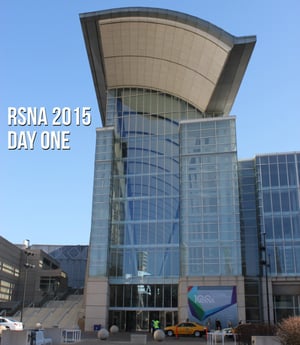 Once again, the Block Imaging team has returned to Chicago's McCormick place to connect with our partners and learn what the next year will hold for radiology at the annual RSNA meeting. As is ALWAYS the case, the exhibition halls and education session rooms are a hive of activity as professionals and equipment providers alike continue to arrive and mingle.
The Block Blog Team has returned to the floor with our Product Team counterparts to help capture a daily snapshot of what's happening on the floor- what trends are emerging, who is attending (and from where), and what ideas are being shared. Here's what we experienced on day one of RSNA 2015.
The Walkabout
One of the first things most of us do when we arrive at RSNA is take a lap around the exhibit hall to see who's attending and take in the spectacle of some of the more elaborate booths. All the major OEMs have an RSNA presence and their booth game is on point with the newest equipment offerings and some forward glances at what's next. Newer companies that might not have the "household name" status of a GE or a Siemens have their latest and greatest in tow too as they begin to build recognition of their own.
Another thing we can't help but notice is how much things on the floor have changed. We caught up with our Senior VP of Product Solutions, Jeremy Block to learn a little more about the industry climate this year versus years past. Take a look at the clip below for some shots from the floor and some insights from Jeremy.
Patient-Centered Radiology
All over McCormick Place we're seeing an emerging emphasis on humanizing radiology - both the field and the experiences patients have interacting with it. As a movement, patient-centered radiology is getting some time in the official RSNA spotlight on Thursday from 8:30 - 10:00 AM in S403A. Among the panel of presenters covering this topic is Dr. Susan John, MD of University of Texas Medical School at Houston. We interviewed Dr. John at our booth to get a firmer idea of what she and her co-presenters will cover on Thursday for RSNA attendees as well as a takeaway or two for those who won't be able to make it. You can view the interview in its entirety below.
International Connections
There is also a strong international presence at RSNA 2015. This is not different than previous years, but what has changed is the way equipment, parts, and service providers in the US respond to the needs of this community. We spoke with Block Imaging President, Josh Block about this change and heard a few of his thoughts on the matter. He said:
Each part of the world we work with has its own unique challenges - importation, customs, service availability, even the availability of reliable power utilities in some places. What we're seeing on the US side of things is the emergence of comprehensive service as the top differentiator among providers. Customers across the world want to know that their provider can meet all the needs of their equipment project from start to finish.
The annual RSNA meeting is an ideal place for international buyers and equipment providers like those Josh mentioned to connect and discuss how they can work together. In just this first day, we had the opportunity to meet with partners from Japan, Korea, Peru, Argentina, and Russia. We look forward to seeing more conversations at RSNA that will facilitate the spread of high-quality equipment and, ultimately, high-quality care all over the world.
The Takeaway
Day one is done, but there is plenty more RSNA 2015 to come. If you'll be joining us in Chicago, be sure to check out our 5 Must-See Presentations at RSNA 2015 to hear from the experts on topics ranging from health care reform, to radiation dose protocols, to using Twitter to educate your patients. If you've got some time to spare between events, you could always swing by the Block Imaging booth too (South Hall, 2507).
If you won't be attending RSNA this year, you can check back with us for more recaps and highlights each day until the exhibition halls close on Thursday evening. Until then, we'll leave you with... The Picture of the Day!
Picture of the Day
Any RSNA veteran will tell you that one of the most important tools you can pack in your RSNA utility belt is a recommendation for a great dinner spot. That said, your Picture of the Day is the phenomenal Tacos De Barbacoa from Cantina Laredo at 508 State St.