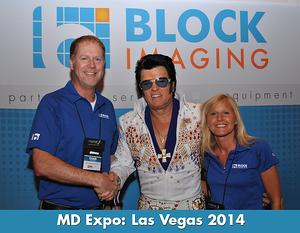 Here we are, back in Michigan (it's 25° out as I write this), freshly returned from Las Vegas (where it will be 84° today) and the first of this year's 3 MD Expo gatherings. Last week's show was a great one, with dozens of opportunities to connect with end users, dealers, and rock n' roll legends alike.
A few highlights from MD Expo Las Vegas 2014:
Record attendance- over 400 attendees

Great conversations about inventory, service, and repair capabilities

Fabulous feedback from dealers and end-users alike on the Block Imaging Customer Service Rep team (Thanks everybody!)

Worked together with a clinical engineering director to resolve a current problem

Checked in with a Block Imaging customer based in Carson City, NV about his recent equipment purchase and install- we always love to hear how our customers are enjoying their imaging systems

Saw new technology and received a first-hand demo: the GE AMX IV with a DR upgrade

Connected with a parts vendor to expand our nation-wide replacement parts network

Spoke with a tool vendor about even more equipment to help our engineers help our customers

Oh, and Elvis was there!
If you weren't able to make it out to Vegas, maybe we'll see you at MD Expo Orlando in the fall. It's sure to be a perfect chance to connect with people from all sectors of the medical industry. In the meantime, if you have questions about imaging equipment, parts, refurbishment, or service, the Block Imaging team is ready to help. Contact us or check out any of our free resources for more information.