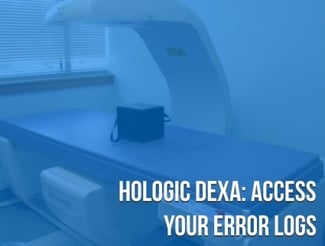 If you've been experiencing issues with your Hologic DEXA system, one of the first places to check for more information on the problem is your system's error logs. Accessing these shows the error code for the problem- valuable information to pass on if you need to place a service call.
Having the error code in hand, enables an engineer to have parts sent ahead or to bring them along, allowing for the system to be repaired in a single visit. This is the fastest way to get your system back up and running.
Here is a short video to guide you through where to find your Hologic DEXA's error log so you can better inform your service provider and empower them to get you scanning again ASAP.
How to Access Your Hologic DEXA Error Log:
If you have an immediate service request or simply more questions about DEXA service or parts, we're happy to help. Contact our service team for support or use the button below to request DEXA parts..