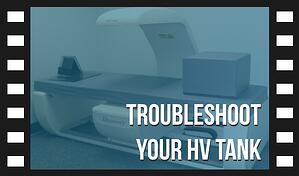 Is your Hologic DEXA machine locking up, tripping breakers, or showing streaks and lines in your scanning field? If any of these problems are happening regularly at your facility, your system might have a failing high voltage (HV) tank. The high voltage tank is a major component of your DEXA system, and its failure can cause downtime in your patient schedule. Fortunately, these tanks are readily available on the secondary market and, with a few troubleshooting steps, you can determine if yours is suspect. We'll share below what you should look for to determine if your Hologic DEXA HV tank is on its way to failure.
Check Your X-Ray Cup for Oil
The symptoms and failures mentioned above are frequently due to oil leakage from the tank. Oil leakage can accumulate in the X-ray cup, restricting X-ray emission. It can also lead to electrical arcing, which can shut your system down or damage other components. Check your X-ray cup for leaked oil by removing the cover pictured below. If you have oil in the cup, contact your service provider.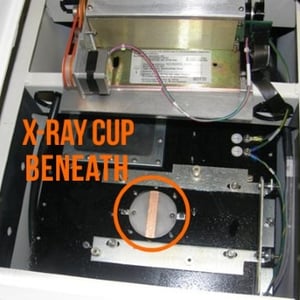 Monitor DEXA QC Results for HV Tank Failure
Watch the video to see how your daily QC tests can show you if your DEXA machine's HV tank is at risk of failure. If your QC plots consistently fall outside the parameters discussed in the video, you may be on the way to HV tank failure.
Thanks for reporting a problem. We'll attach technical data about this session to help us figure out the issue. Which of these best describes the problem?
Any other details or context?
message
The Takeaway
If you learn that your HV tank is on its way out, we can help. Contact us for support from our bone density service experts or to place an order for a replacement HV tank.
.........................
See More:
This is just one of the many bone density equipment articles we have for you. If you want to keep reading about systems, parts, service, and news, click here to see the complete list of content for this topic.