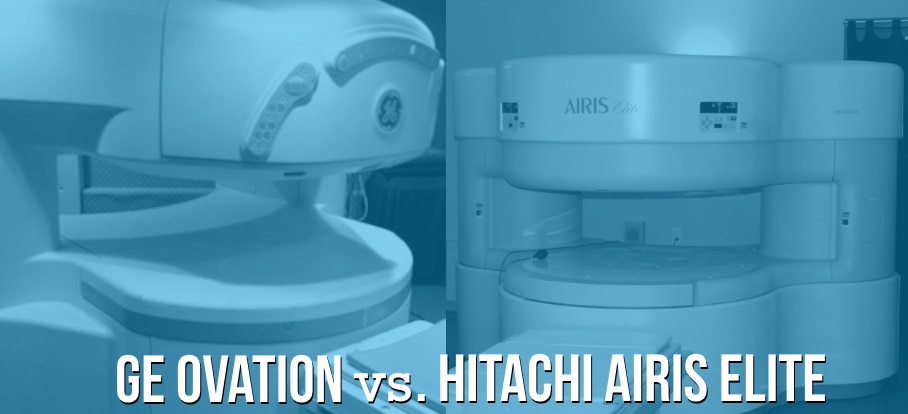 If you're like most people looking for a Hitachi Airis Elite right now, you might be wondering what happened to the market. The availability of Elites has plummeted, and fast. Heck, it's even difficult to find Airis II magnets right now. So, what can you do if you're in need of the capabilities of an Airis Elite but can't find one?
Answer: Consider the .35T GE Ovation
The Ovation can do everything the Elite can do and, in most cases, can do it better. Take a look at the technical comparison below to see which features these systems share and some additional areas in which the Ovation shines.
Similarities
Phased Array Coils
Both systems offer phased array coils to reduce scan times and increase signal to noise ratio (SNR). Some of the GE Ovation models have 8-channel RF capabilities for even faster scanning, though this will vary by model.
Fat Separation
If you're looking for the Elite over the Airis II, it's at least partially because you want to be able to obtain true fat separation images. In that case, more good news! The Ovation has the magnet strength and gradients necessary for fat separation.
Price
If you were building your budget around getting an Airis Elite, you probably won't need to change your plans much. The Elite and the Ovation typically sit within the same MRI price bracket. Both can typically be delivered and installed with a first-scan warranty for under $200K.
Availability
As mentioned above, it's very much a "seller's market" for Elite systems and supply is unusually low. However, while the Ovation is still uncommon, there are usually one or two available at any given time.
Ovation Exclusives
Motion Correction Software
Unlike the Airis Elite, the GE Ovation features software called PROPELLER to correct for patient movement during a scan. While it is not a standard software option on the Ovation, it is almost always enabled as this is a huge selling point for the system.
Bolus Tracking
TRICKS (Time-Resolved Imaging of Contrast KineticS) is GE's flavor of the time-resolved CE-MRA technique. Like a video camera, TRICKS acquires continuous data from contrast injection through contrast wash out, so you never miss the bolus.
Higher Field Strength
At .35T, the Ovation has a more powerful magnet than the Elite's .31T. This difference allows the Ovation to perform faster scans and provide better image quality.
The Takeaway
The Hitachi Airis Elite is an excellent open MRI system. This is exactly the reason you were looking for one in the first place. Unfortunately, because supply is low, if you really have your heart set on getting one, you'll need to keep a very close eye on the market and be willing to wait for what could be a while until one pops up. If you don't have that kind of time and are willing to be flexible on the make and model you purchase, the GE Ovation matches (or exceeds) the Elite in capabilities, sits in the same relative price bracket, and is more widely available.
In either case, our MRI team is ready to help track system availability or answer other questions you might have about open MRI systems. Feel free to contact us here to learn more or to read any of our other free resources.