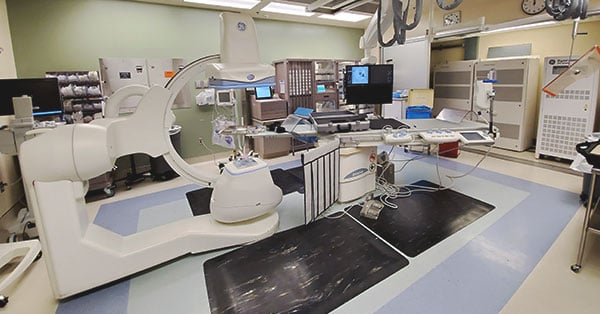 A common mistake we see in the cath lab planning and construction process is not accounting for the significant heat produced throughout the lab. When the heat produced by electronic equipment isn't properly dissipated, it can lead to damage. Our Service team has received many a call for system issues with excessively high temperatures at their root. The only solution: make sure your cath lab suite is equipped with proper cooling measures.
We'll unpack what type of cooling you need in each area of your cath lab suite to prevent overheating that can cause damage to your system and downtime in your schedule.
Cooling for Each Part of Your Cath Lab
In a cath lab there are three distinct spaces:
The control room, which houses the main system interface with the techs, post processing workstations, and hemodynamic monitoring
The scan room, where the physician performs patient procedures, which houses the gantry, table, and monitor suspension
The equipment room, which houses the electronics cabinets and cooling mechanisms
Control Room
The control room typically holds 1-3 computer workstations and 2-6 monitors. In some cases, depending on the type of lab, studies being performed, and other equipment paired with the lab, we've seen up to 18 monitors in this space! All that (plus the body heat from a couple of techs) can make the control room pretty toasty. In most cases, a building's primary HVAC system can handle this. Setting the thermostat for the control room a few degrees cooler than, say, your hallways or your waiting room should provide cool enough air for the computers' internal fans to keep the temperature down.
Scan Room
A building's primary HVAC is also generally sufficient in the scan room. Some heat is generated by the gantry, table mechanisms, and monitors, but this is only around 4200 BTU per hour.
Equipment Room
The equipment room is where cooling the cath lab becomes more involved. Unlike a CT or MR that uses an external chiller placed outside, the cath lab uses a closed loop chiller in the equipment room to keep the tube performing at its peak. There is also a detector conditioner that cycles fluid to keep the detector at a stable temperature.
While these chillers are effective in keeping their respective components cool out in the scan room they create a lot of heat themselves. In a GE Innova, for example, the tube chiller creates almost 19,000 BTU of heat per hour. If you combine this with the 4,000 BTU coming form the UPS cabinet and the 5,300 BTU coming from the system cabinets, there's enough heat being generated that cath lab equipment rooms typically require their own dedicated HVAC cooling unit with a separate thermostat.
The Takeaway
If you're planning to add a new cath lab, discuss cooling with your equipment provider, site planners, architect, and HVAC contractors to ensure proper temperature control in each space. It's far easier and more cost effective to have the correct measures in place before your cath lab is already installed and serving patients.
Our team is ready to help throughout your cath lab project. On top of equipment, we can assist with site planning, installation, and ongoing service. You can use the form on the right to let us know your needs, or call us directly at 517-668-8800 to begin a conversation.
You can also read more about cath lab project planning with these articles: