After you've made some C-arm decisions about image intensifier size, software packages, generator power, and price, you may also need to consider how much C-arm your facility (and your team) can handle, that is- what C-arm footprint is best for the room you have and the maneuverability you need?
Below is a visual comparison of ten models of full size C-arms in their standard configurations. The systems include larger C-arms like the Siemens Avantic and the OEC 9800 and more compact models like the Philips Pulsera and the Siemens Compact L.
[CLICK TO VIEW FULL-SIZE]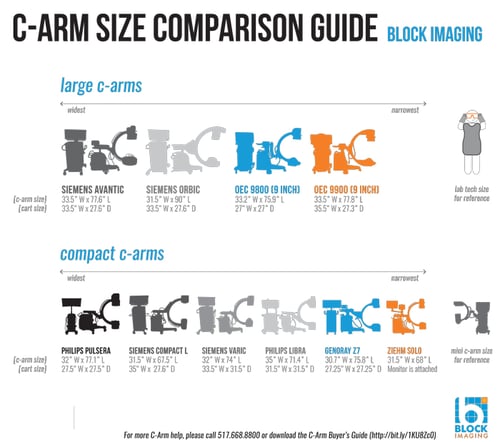 Keep in mind that some C-Arm needs can't be met by compact models. If you're going to need a 12" image intensifier or a generator strong enough for bariatrics, for example, you'll probably need to turn to a model like those pictured in the "large" tier. If your needs will be more along the standard lines (orthopedics, basic surgery, pain management), however, a compact model could be a good fit.
If you have more questions about selecting the best C-arm for your facility, contact us, we're ready to help. If you'd like to learn more on your own, we have more free resources you can turn to:
C-Arm Site Planning: What Size Room Do I Need?
How Much Does A C-Arm Table Cost?
Mini C-Arms vs Full-Size C-Arms