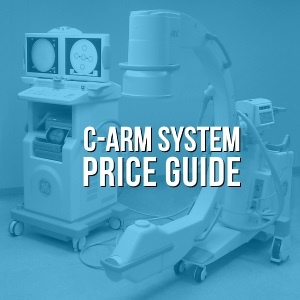 When we talk to people about purchasing their next (or maybe first) C-arm system, the question of cost is generally one of the first to arise.
To help answer that question, see the video below for a simple breakdown of cost and price information for popular C-arm models from leading manufacturers, including:
Ziehm C-Arms
Fluoroscan C-Arms
C-Arm Price Cost Guide [2017]
Thanks for reporting a problem. We'll attach technical data about this session to help us figure out the issue. Which of these best describes the problem?
Any other details or context?
message
Here's a breakdown of the C-arm models and prices covered in the video:
C-arm Machines With Cost Price $10,000-$30,000
OEC 9000

OEC 9400

OEC 7600

OEC 7700

Philips BV 25

Philips BV Gold

Philips BV 300

Philips BV 300 Plus

Philips BV Pulsera (release 1)

Siemens Siremobile 3U

Siemens Siremobile 4U

Siemens Siremobile 2000

Siemens Siremobile Compact

Siemens Iso C (early generation)

Ziehm Exposcop Plus

Ziehm Exposcop 7000

Fluoroscan Premier



C-arm Machines With Cost Price $30,000-$50,000
OEC 8800

OEC 7900

OEC 6600
OEC 6800

Philips Pulsera (release 2)

Philips BV Libra

Philips BV Endura




Ziehm Vista Plus

Ziehm Vision

Ziehm Quantum

Siemens Arcadis Varic

Fluoroscan Premier Encore

Fluoroscan Insight II
C-arm Machines With Cost Price $50,000-$70,000
Ziehm Vision R

Ziehm Solo

Siemens Arcadis Avantic

Siemens Arcadis Orbic 3D

Genoray Zen 7000

Comed KMC 950

Fluoroscan Insight FD
C-Arm Machines with Cost Price $70,000-$120,000
Philips Veradius
Siemens Cios Alpha
Ziehm Vision RFD
Don't forget that the cost of your c-arm itself will only be a part of your total project budget. There are a few other costs you'll have to consider in accessories, safety equipment, health department approvals, and maintenance. Access our free C-arm Buyer's Guide to learn more about those costs. And, as always, if you have any questions, feel free to contact us.
.........................
Chris Sharrock is the Fluoroscopy Product Manager at Block Imaging. Sometimes referred to as the "The C-Arm Guy", Chris has a passion for music, fitness and genuinely enjoys helping others make decisions about c-arms and fluoroscopy equipment. You can download Chris' very popular "C-Arm Buyer's Guide" or connect with him here.