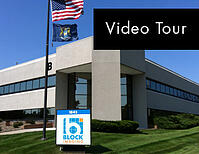 See a virtual tour of Block Imaging's refurbished imaging equipment facilities in Holt, Michigan. State-of-the-art staging bays, qualified engineers, equipment testing, and calibration to OEM specification ensure refurbished imaging equipment you can be proud of.


Click on the image below to begin your tour.



We're finally under one roof! Block Imaging International and Block Imaging Parts & Service are now all located at our new corporate headquarters. Have you updated your records?
New Corporate Headquarters
1845 Cedar Street
Holt, Michigan 48842
.........................

Jordan Batterbee is the SEO Copywriter at Block Imaging. He loves to research, write, and help others get clear, concise, and (hopefully) fun answers to their medical imaging questions.
Free Resources: