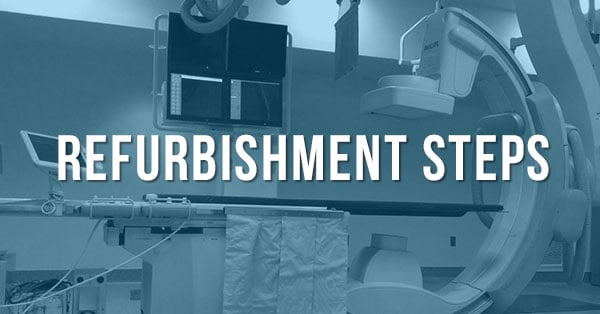 When speaking with customers about "refurbished cath labs" there are often questions about what the refurbishment includes. There are a number of imaging equipment vendors who offer refurbished systems, but many of them don't really discuss what their refurbishment process looks like.
We can't speak for the others, but below is the process we use at Block Imaging to return used cath lab equipment to OEM specifications for image quality and performance:
Our Cath Lab Refurbishment Process
Inspection
The first step to producing a quality refurbished system is starting with a solid used system. Before we bring a system into our refurbishment center, we dispatch an engineer to inspect it where it is and ensure it's in good functional condition with no major issues.
Decontamination
Once a system arrives in our warehouse, it's disassembled and completely decontaminated. Our team is trained in bloodborne pathogen management and uses the proper cleaning chemicals and techniques to disinfect the system both Inside and out.
Cosmetic Repair and Refurbishment
After decontamination, every system goes through our paint shop and is inspected for exterior damage. Our team is well-versed in various repair methods and makes sure any cracked, dented, or scraped covers and panels are repaired to look and wear like brand-new. Any painted surface of the cath lab is then painted with color-matched, OEM-quality paints. New labels and logos are applied to give the system a factory-new finish.
For example: pictured below on the left is the tube housing of a GE Innova 4100, open for detailed inspection, cleaning, and testing. On the right is the tube housing re-assembled with freshly-painted, like-new covers.
Staging
Next, we fully install the system into one of our staging bays. During this process all the mechanical movements are checked and any worn or failing parts are repaired or replaced as needed. Bearings, cables, connectors, and other mechanical pieces are all evaluated for performance. Here's a shot of the Innova 4100 we mentioned earlier being staged in our refurbishment center.
Inventory
Our team checks every part and component to ensure everything that should be with a system is there and accounted for. Any missing items are ordered and placed with the system.
Troubleshooting
Every used system has some issues that require technical care and/or replacement parts to resolve. Boards, cables, power supplies, etc. – any of these items are prone to failure over extended time and use. The engineering team at Block tests each system down to the component level to confirm if any of these problems exist or are emerging. Replacements are made as needed.
Calibrations
Once troubleshooting is completed calibrations begin. Alignments, system movements, tube performance, and detector performance are evaluated. The refurbishment is not considered complete until all internal systems pass their quality assurance/control tests without qualification.
Video/Photographs
In the final step, our engineering and marketing departments team up to make a "check out" video of the system, documenting its performance and movements. Extensive photos are also taken to fully depict the condition of the system at the completion of the refurbishment process.
If you purchase a refurbished system from Block Imaging, this is the time we invite you to visit our warehouse, inspect your finished system in person, and visit with the team that made it happen.
The Takeaway
The keys to a quality cath lab refurbishment process are the same as a quality refurbishment process for any product: thoroughness and product expertise. With knowledgeable engineers and a detail-oriented approach to both functionality and cosmetics, you can be sure that you're getting an outstanding refurbished cath lab system.
If you're in the market for a quality refurbished cath lab, we can help you find one. Contact us to learn more about cath lab interventional equipment.