When selling a piece of imaging equipment like a Hologic bone densitometer, details are everything.
Imagine the kinds of questions (or lack thereof) that you would get if you listed your vehicle on Craigslist as ONLY a Ford truck. One of two things would happen: 1) No one would bother to inquire for more details at all, or 2) the potential buyer would flood your inbox with a myriad of questions from make and model, to date of manufacture and options. Taking care to provide as many of these answers up front as possible would go a long way toward selling the truck quicker and, potentially, for more money.
The situation is the same when selling medical imaging equipment. Whether you're looking to sell your bone density unit because you're upgrading or are getting out of the bone business, here are a few things that potential buyers are going to want to know before they purchase from you:
A potential buyer will want to know all of the following are present:
System
Workstation, monitor, printer, cart
QC Phantom and storage box
All Backup Software discs (very important)
Operator's Manuals
All Positioners (knee, hip, prosthetic hip, etc.)
Six things you need to photograph:
1. System and Accessories – Taking a photograph like the ones below will quickly and easily show a potential buyer all the items that will be coming with the unit (workstation, printer, cart, positioners, phantom, manuals, backup disks, etc.).
2. Software Disks – Having all of the back-up software disks is a MUST if you are selling your unit. These will often be found in a box and/or a 3 ring binder that, hopefully, is stored in a cabinet or closet near the bone unit. Close up photos showing these disks are absolutely necessary.
3. System Tags - A photo of the date of manufacture/model number/serial tag (on the back, left, bottom of the unit) is ideal. This is sometimes hard to see if the unit is pushed up against the wall. I have personally used my Smartphone to take this picture, which usually works best with a flash (see ideal photograph below showing date of manufacture, serial number and an "x" through the appropriate model box (A, SL, W, C, W, Ci). If this tag is not accessible, plan B is to take a photo of the tag on the back of the c-arm (see below) which is the date of manufacture for the x-ray tube and HV tank.
4. Software Level - Next, go to the "Help" tab on the workstation monitor, click on "About" and take a screen shot like the one below. This will confirm the model of the unit and also tell us what software (QDR or APEX) and software level the unit is running.
5. Software Options- On the workstation monitor, click on the "Utilities" tab.If your system is running QDR Software, click on the "System Configurations" tab. Under Software (at the bottom of the screen), click on the drop-down window and take screen shots of ALL enabled software options. Note: You may have to scroll down to get photos of all options. If your system is running APEX Software, click on the "Install Options" tab. This will give you a list of all the possible options, but we only want to know of the options that are installed and have the word "Yes" by them. Screen shots are needed here. Note: You may have to scroll down to get photos of all options.
Need more help finding your software information? Watch the video below for guidance:
6. Passed QC Report- A screen shot of a recent "passed" QC/QA report shows the unit is properly calibrated and in good working order. Once the "Passed" screen (shown below) comes up, click "Plot", which will show a graph on the BMD tab. Take the same screen shot on the BMC tab and AREA Tab. All dots should be between the red-dotted lines if the unit is calibrated properly.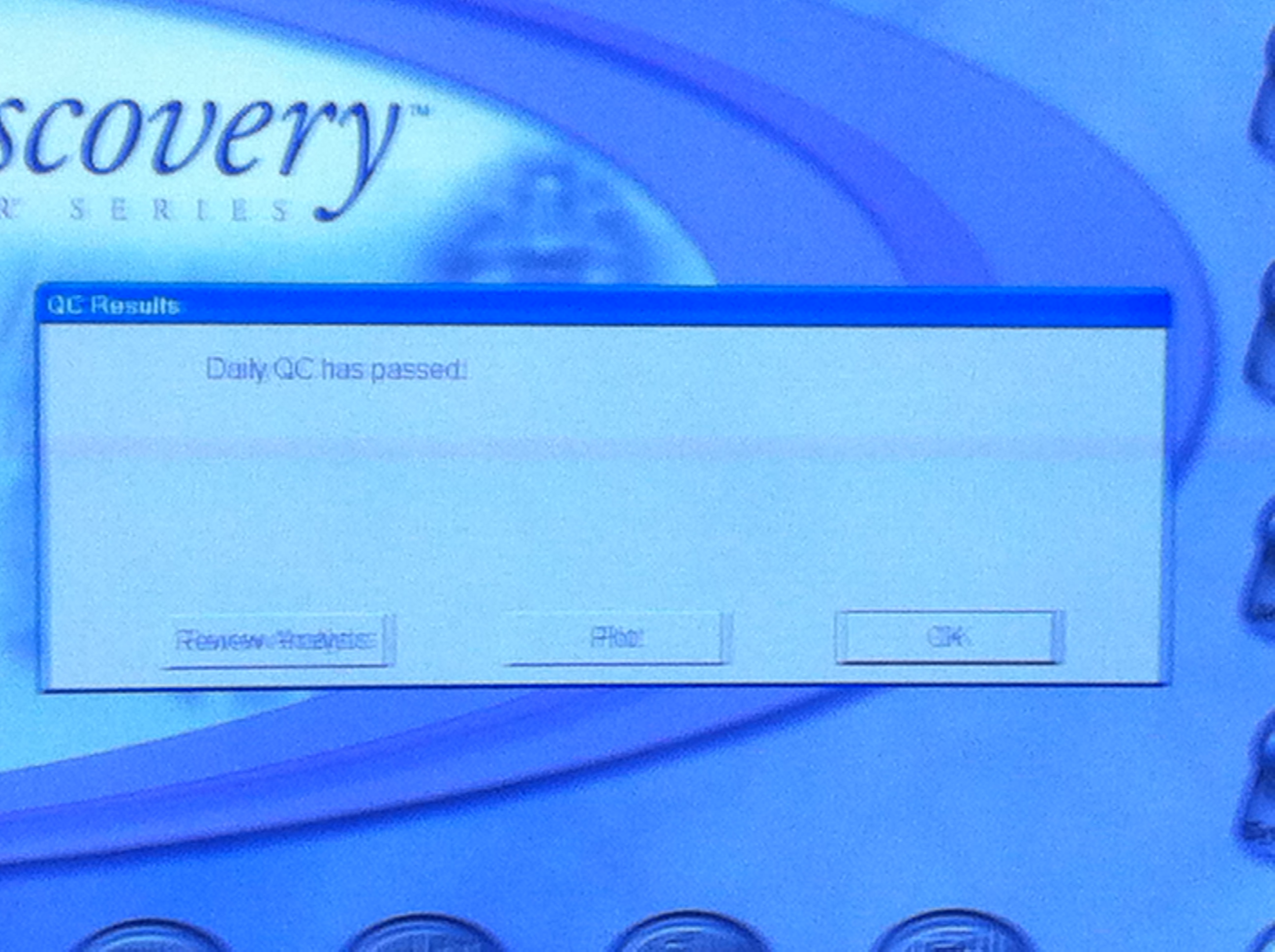 Doing some detective and photography work (even with your smartphone) on the front end will ensure that you are equipped to answer whatever questions a potential buyer may have. Realize that each unit is equipped with different bells and whistles, so it makes sense that a buyer would not only want to know that they are getting a complete and well-running unit, but also the capabilities of the unit and how they will match up with the services that they want to provide their patients.
One extra step that we hope you'll keep in mind is to contact Block Imaging with the above information. Our purchasers are always on the lookout for quality used bone density units. We'd love to see your photos and talk with you about your Hologic system.