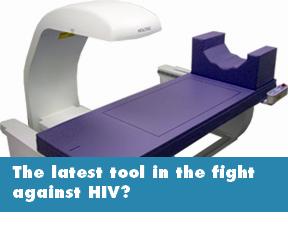 During a party I attended last year, I was fortunate enough to eat some fantastic BBQ. This is not surprising, given my proximity to the Mason-Dixon Line but; on top of that good fortune I also met a very knowledgeable pharmaceutical rep whom we'll call "Don". We started talking about what we do and, of course, he had questions for me and I for him.
During the course of the conversation, Don said that his doctor clients were looking for bone densitometers. He also thought I might be interested to know that, in spite of bone densitometry's long association with women's osteoporosis care, most of his doctors' clienteles are men.


HIV Patient Care and Bone Loss
My new cookout acquaintance told me the doctors mentioned above are involved with HIV patient care. He went on to say the doctors were finding the HIV-positive men in their care are struggling with bone loss but the factors causing it aren't quite clear.
When I got back to my office I did some research, and sure enough, Don was right. This is an issue that HIV patients (men and women alike) face. Studies are being done to figure out if the disease itself is causing the bone loss, or if it is caused by the drugs (inhibitors) used to treat the disease.
In a February 2012 article published on health education website, www.hivandhepatitis.com, Editor-In-Chief Liz Highley wrote, "A growing body of research has shown that people with HIV have a higher risk of bone problems compared with the general population."
This assertion was corroborated by further reading. In a presentation given during the 2010 International AIDS Conference in Vienna, Dr. Patrick Mallon of University College Dublin was quoted as saying, "One consistent finding that's come through from clinical trials is that patients [starting] antiretroviral treatment experience bone loss."(www.aidsbeacon.com)
In addition to the pieces above, a simple online search for keywords "bone loss, HIV" yielded more resource material than could easily be read by one person.


Bone Mineral Densitometers and HIV Patient Care
Though the clinical research goes on to help determine whether the disease or the treatment is really leading to bone loss, one thing is clear: In a time when many practices are abandoning this type of equipment for modalities with higher reimbursements HIV doctors will continue to need equipment like bone mineral densitometers to measure their patients' risk of further bone loss or fracturing.


Information Resources
The two websites referenced in the body of this article are great places to gain more knowledge on bone loss and HIV. Beyond them, the aforementioned keyword search will link you to a number of other scholarly and federally sanctioned information sources. Take the time to educate yourself... you may be surprised about what you learn!
Conflicting Data on Bone Fracture Link to HIV Meds
Side Effects Of Antiretroviral Treatment: HIV And Bone Loss