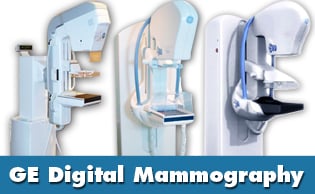 Over the last decade, the transition has been swift from analog to full field digital mammography. The following is a list and description of the three different options available in the GE digital mammography line-up. While each of the systems were designed with fast and comfortable positioning, accurate dose efficiency, image quality and digital connectivity in mind; there are a few differences to note.


Senographe 2000D
GE unveiled the Senographe 2000D in the year 2000 and was their introduction into the world of full-field digital mammography. The 2000D incorporates GE's Revolution digital flat panel detector that was designed to achieve superior image quality and reliability. This first digital system was designed to set the stage for future advanced applications. The 2000D is readily available on the secondary market and is a great fit for lower volume centers who are looking to save big dollars as they dip their toe into the world of digital mammography.


Senographe DS
In 2004, GE took digital mammography to the next level by unveiling the Senographe DS which includes stereotactic capabilities. The DS became their first system to integrate screening, diagnosis and interventional capabilities into one system. The DS uses the same size flat panel detector as the 2000D, but with a smaller tube. With the inclusion of the stereotactic option, some have found this to be a cost-effective alternative to purchasing a dedicated stereotactic table.


Senographe Essential
Introduced in 2006, the Essential is the "Cadillac" of the GE Digital line. It has the largest active field of view available on the market at 24x31cm. What this means it that in a single exposure, you are able to maximize image quality regardless of breast size or density. As with the DS, the Essential also has stereotactic capability, allowing for a complete clinical solution.


Refurbished Mammography Prices

The burning question of course is now, "How much does digital mammography equipment cost?" While determination of value will vary greatly depending on the model, age, refurbishment, service agreement and additional options such as CAD and Radiologist's Workstation (RWS), the equipment ranges from $115,000-$200,000. The lower end is of course the most basic equipment without a workstation and highest end is for the most modern equipment, CAD and additional RWS.
We'd love to hear about your experience and recommendations with regard to GE and other manufacturers of full field digital mammography (FFDM) equipment. Of course if you are looking to buy, sell, need a part or fair market value (FMV), we are here to serve!
.........................
See More:
This is just one of the many mammography equipment articles we have for you. If you want to keep reading about systems, parts, service, and news, click here to see the complete list of content for this topic.