Check out this awesome infographic comparing C-Arm prices between OEC, Siemens, Ziehm and Philips C-Arm machines!
[Editor's Note: This article has been updated from the original version, published Oct 2011, to reflect recent changes in the C-Arm pricing tiers. Click here for pricing details on even more C-arm models.]
As the leader in refurbished C-Arms, we want to proactively answer your most pressing C-Arm questions and help you identify the best solution for your needs.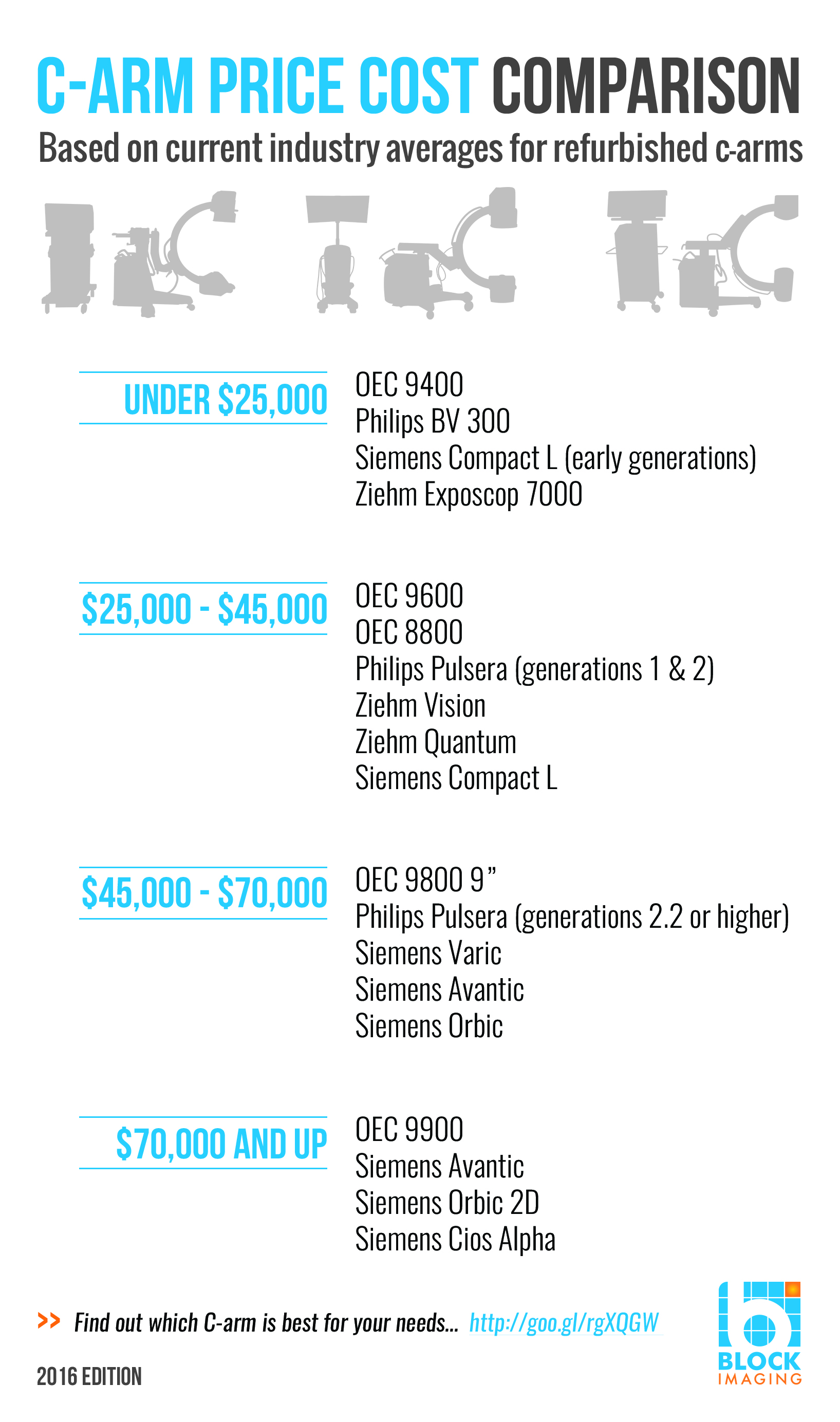 Identifying the Perfect C-Arm for Your Specific Needs
To help towards that end, I always ask a series of questions:
Do you know what type of C-Arm you want?
Will you be doing Vascular, Cardiac or Neuro studies?
Do you need Digital Subtraction?
Your answers to these questions help identify the best options for your specific C-Arm requirements.
The truth is, there is a C-Arm available at nearly every price range as you can see from the infographic on the left.


Why the Large Price Variation?
The key factors determining what you get for your money are the age, capabilities, level of refurbishment and warranty with each system. As the price increases, you will notice the age of the C-Arm is newer and/or it has more capability.
As you are determining which C-Arm to purchase, ask yourself the questions above to find the best C-Arm for your budget. If you have additional questions or want more information about C-Arms, please check out our C-Arm resource page or give us a call! We look forward to helping with your next C-Arm project.
.........................
David McAndrews is the Senior Vice President of US Imaging Solutions at Block Imaging. His goal is to offer each customer valuable equipment advice and top-notch service to empower them for success. Contact David to learn more about your next imaging equipment purchase, or if you simply want to chat about this year's team at Chelsea Football Club.