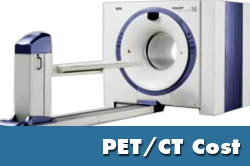 (PET/CT Scanner cost updates for 2012/2013 now available here)

Not a week goes by where I don't get the question, "How much does a PET/CT cost?" We are involved with the buying, selling and installing of refurbished PET/CT scanners on a daily basis. So, while the answer depends on a number of factors, the single most determinative factor is the number of slices the CT has.
The old adage, "you get what you pay for" is very true in the realm of PET/CT. The more slices, the more money you will pay.
Single Slice
If you can make it on a single slice, then an early Siemens Biograph Single may work for you in the $125,000 - $175,000 range (this pricing does not include a service contract). If you need late model 40 slice or 64 slice, then you had better have around six figures to have it installed and under a service contract.
2 - 16 Slice
The sweet spot on the market right now are 2 - 16 slice scanners. 40s and 64s have not yet come onto the second hand market. I expect the first 40 slice to hit the market in 1Q 2012 – expect to pay a premium.
So of what's available, a Siemens Biograph Duo or GE Discovery LS4 will be in the $300,000 - $400,000 range depending on options and condition, while a GE Discovery LS 16 or Siemens Biograph 16 will range from $525,000 - $600,000 (these prices are not inclusive of service agreements).
Availability
In between those two ranges you have the Biograph 6 and the GE Discovery LS8, both more rare, but for different reasons. The Biograph 6 is a very robust system and popular in a mobile application – their owners tend to hold on to them longer. On the other hand, GE didn't make many Discovery LS8s because they introduced the Discovery LS 16 relatively quickly after the Discovery LS4.
At this current time, we have good availability on the Biograph 16s and Discovery LS4s, but that could change in an instant. In 2010, we watched GE 4-slice PET/CT drop in value almost 30% in 6 months while the 2-slice Siemens model has increased about 25% since Spring 2011.
Philips has a very small market share in the second hand PET/CT market. We see 1-2 systems of any size in any given year on the secondary markets. They tend to represent a good value for the Power 16 and GXL series systems, yet command a little premium for any TF systems.
PET/CT Service
The good news is that no matter which manufacturer of PET/CT you choose, quality service is readily available. We have had good success working with both OEMs and reputable third-party vendors to service PET/CTs.
If you are contemplating a PET/CT purchase in the next 12 months, your best bet is to contact a reputable company (hint: Block Imaging!) to find out what's available on the market right now.


.........................
Josh Nunez is the Product Manager for Molecular Imaging Equipment at Block Imaging. He is also a husband, father of 5, athlete, and literature and photography buff. Josh is energized by developing an understanding of each customer's unique imaging needs and overcoming the challenge of helping find them the perfect equipment match.
\